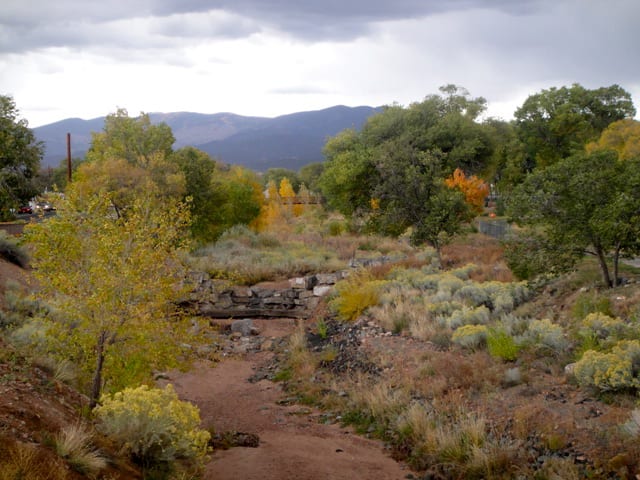 Location, community, possibility–that's my REALTOR'S gut take on Barrio La Canada: a neighborhood I can't claim to know, but plan to discover. I sense that Barrio la Canada is a good, longterm bet for a home purchase in greater downtown Santa Fe, and here's why: It's quiet, but not without activity. Its park, The John F. Griego Vietnam Veteran's Memorial Park, gets good use from kids and picnickers.
About Barrio La Canada
I've heard residents describe Barrio La Canada as a typical Santa Fe melting pot: young, old, newcomers, longtimers, families, couples and singles with a range of personal interests and professions. Many homes are in original condition–an open opportunity to create equity with some sweat, savvy and cash–and some gentrified, for those who don't have skills or stomach for remodeling. There are also a few pockets of new construction.
The Santa Fe River, which forms the neighborhood's northern boundary, gives the community charm and definition. Homes on the north side of Paseo de la Conquistadora benefit most from the physical buffer to nearby Alameda, the beauty of the riverbed and, when the river is running, the lyrical sound of flowing water.
Barrio La Canada Schools
The local elementary school is the once struggling Larragoite STEMM, now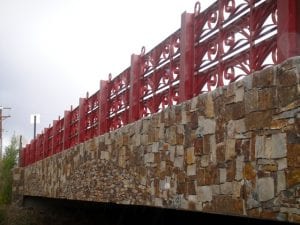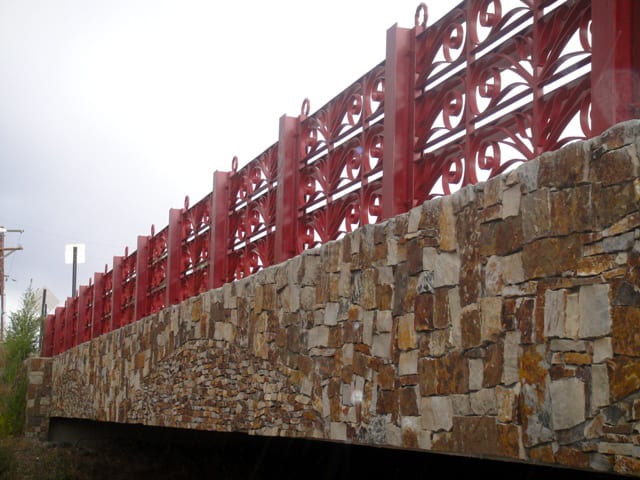 a magnet school, which has partnered with the University of New Mexico, Highlands University, and the Los Alamos National Laboratory, to reinvent itself. Through "rigorous and relevant instruction in science, technology, engineering, and mathematics", it aims to focus on "real-world problem solving centered on themes of community, caring, and wellness."
Barrio La Canada's middle school is DeVargas; its high school is Capitol. The International Baccalaureate School, Desert Academy, is across the street.
Shopping and Dining
Agua Fria, which runs parallel to neighborhood's southern expanse, provides easy access to area shopping and dining. Two good nearby restaurants are The Tune Up Cafe and Counter Culture. Payne's Nurseries north store is just 1/2 block south of the entrance to Barrio La Canada, on Camino Alire.
Home Values
At this writing, there are just three active listings in Barrio la Canada, priced from $215K-325K. Two have three bedrooms, 2 baths, and 1090 to 1701 square feet; the third has a whopping 5 bedrooms, 3 baths and 2462 square feet. In the last four months, three other listings have expired. The two houses that sold within the past six months are fairly typical of the area: a four bedroom, two bath home with a garage conversion and minor upgrades that sold for $239,000 and a three bedroom, two bath 1172 square foot fixer upper that sold for $175,000.
If you're interested in this neighborhood, don't try to find listings by the name of the subdivision (since it's called both "Barrio la Canada" and "Barrio de la Canada".) Search by streets, or have your agent search in both areas 2 and 4N as listing agents do not consistently assign their properties to one area.
For census data and statistical information on the neighborhood, go to: City-Data.
For more info on Santa Fe NM Neighborhoods.
Browse Barrio La Canada Real Estate
[idx-listings tract="Barrio de la Canada" statuses="1,2″ propertytypes="980,981,983,984,985,986,1518,5084,5085,5086,5087,5088,5089,5090″ orderby="DateAdded" orderdir="DESC" count="50″ showlargerphotos="true"]