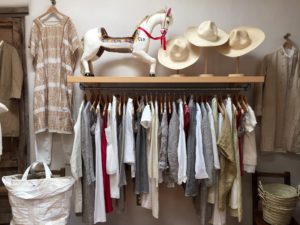 "Well-curated; a breath of fresh air; a unique shop with a marvelous aesthetic." Head to La Bohème's Facebook Wall and you'll see love notes from past shoppers whose words suggest they are both clothes-savvy and worldly. Indeed, La Bohème is a women's clothing store for those in-the-know: about fabrics, history, cultures and style. More than just a women's clothing store, this boutique also carries antique silver jewelry; Nigerian indigo-dyed bags; delicate cottons; handmade paper and hats by Albertus Swanepoel –the diverse mix is satisfying for the senses and the sensibilities.
Owner Margaret Beattie takes pride in stocking items that are ethically and sustainably sourced and made by artisans impassioned about their work. Her commitment to excellence and fair-dealing dovetails powerfully with that of her suppliers. Their shared perspective creates mutually supportive bonds and unique opportunities. The tiny shop has hosted trunk shows with the likes of Christina Kim of Dosa and Gasali Onireke Adeyemo, who teaches traditional Yoruba batik and Adire (tie dye) around the country.
Margaret also has an outstanding collection of antique and contemporary Navajo and Pueblo jewelry. Many of the pieces were purchased Margaret's mother-in-law, the artist Teal McKibben. McKibben originally sold art and jewelry in the same locale, then named La Bodega.
Margaret's product knowledge is deep and her vision is strong. Perhaps because of this, scouts from other women's clothing stores have slipped into the store, casually querying about her sources and connections. But true individuality is self-renewing. You might find some of these items elsewhere about town, but you won't find them all, nor will you have Margaret, guiding you with back stories and a collector's eye for the exquisite.
Running the show alone means that Margaret is occasionally pulled in two directions. While regular hours are 11:00 -5:30, it's best to call ahead to ensure the shop is open during scheduled hours.